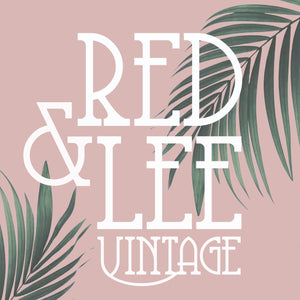 RED&LEE VINTAGE
is curated, sustainable, pre-loved, slow fashion that showcases quality vintage pieces and current trends that inspire individuals to look at fashion and home décor in a stylish, unique, eco-conscious way.
SHOP HOME GOODS
---
This section doesn't currently include any content. Add content to this section using the sidebar.
RED&LEE VINTAGE
ℍ𝕠𝕦𝕣𝕤
We will have limited, exclusive in-store hours each week. One will also be able to schedule personal shopping sessions, be it one on one with our stylist and owner Jennifer or with a group of friends. 
𝟷𝟸𝟺 𝚆 𝟸𝚗𝚍 𝚂𝚝
𝙼𝚞𝚜𝚌𝚊𝚝𝚒𝚗𝚎, 𝙸𝙰 𝟻𝟸𝟽𝟼𝟷
redandleeshop@gmail.com
Text 719-271-7005 with questions